By Jim Melican, President Emeritus and GSAC Board Member 
Submit questions or feedback online.
Most of our residents are unaware that the Naples Police Department includes a Community Oriented Policing Unit which has been in operation since 1995. This unit is based on the concept of the police and the community working together to find solutions to long-term issues, which may include even non-criminal issues not previously handled by the police department.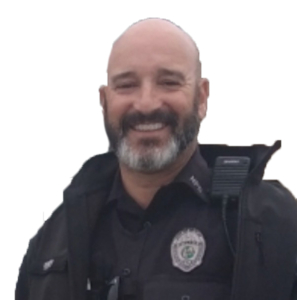 I recently interviewed our community policing officer, Jeff Perry. Jeff is a sixteen year veteran of the department, who loves Naples and the people he encounters, and is very appreciative of the citizen support he receives. But because the Department is currently about 20% understaffed, Jeff is presently wearing three hats. In addition to our area (sector 5), which stretches from Orchid Drive to Seagate and out to US 41, he is also covering sector 4, east of US 41, that includes the Coastland Center, Naples High School and Lake Park Elementary School, while also still being assigned to patrol duties. The department normally has five community policing officers, but, due to the understaffing problem, is now down to two. This understaffing was an issue in the recent Naples City Council election, and there were promises by all of the candidates that it would be addressed.
Officer Perry said that, in our immediate area, most of the crime that occurs involves property loss rather than injury to persons. He particularly mentioned theft from unlocked vehicles when there is valuable property (e.g., cell phones, laptop computers, designer sunglasses) left inside. He said that he has seen several instances where the thief, once inside the car, opened the trunk and stole golf bags and other valuable sports equipment. He mentioned that, just a few weeks ago, eight vehicles in a contiguous area were broken into in a single night. And in another recent instance in which he apprehended the suspect, the perpetrator was just 18 years old, but had fourteen prior arrest records as a juvenile. In that case, when the individual was arrested, he had in his pocket a loaded pistol which he had taken from one of the vehicles he looted. Jeff asked that GSAC urge residents to "create a new habit"; i.e., before going to bed, making certain that both their home and car doors were securely locked.
Officer Perry also said that there is a significant amount of merchandise stolen from the big-box retailers at the Coastland mall. In that case, the criminals are professionals who work in teams, with an accomplice stationed in a car just outside one of the exits. He said that these groups typically came from Fort Myers or the Miami area, and that the easy access across Golden Gate Parkway to I-75 made the mall a particularly inviting target. When I observed that I did not recall seeing reference to this in the local press, he said that the shops were often reluctant to publicize the problem, fearing that it would reflect badly on the location and perhaps even encourage copy-cats.
Because we are approaching spring break season, I mentioned that GSAC frequently hears complaints from residents about raucous parties on or near the beach, particularly at the beach access points. Officer Perry noted that the Naples Police cannot enforce HOA rules or regulations on private property; rather their jurisdiction is limited to the enforcement of Florida statutes and City of Naples ordinance violations. He added, however, that there are a number of state laws governing conduct on public beaches, including having glass bottles or wine glasses, and that there is a city ordinance prohibiting dogs on the beach. He said that the Department would investigate resident complaints and could issue trespass notices, write notices to appear in court for violations of underage drinking, and arrest for criminal mischief. He added that the Department did have beach patrol units, utilizing primarily ATVs, which operated during daylight hours. He said that normally when complaints about excessively loud or boisterous parties are received, just the appearance of the police is sufficient to alleviate the problem.
I inquired what measures GSAC's residents might take if they wanted to better understand how the department operated and how they could be supportive. Officer Perry highly recommended that they sign up for the Citizens Police Academy, which runs from January to March and involves a commitment of one week day evening and two weekend mornings. He said that the Academy has been a highly successful initiative which provides a real inside view of how the police department operates. If any reader might be interested in doing this next year, further information is available at NaplesGov.com.
Officer Perry emphasized repeatedly during our discussion that an important part of his job is to be responsive when issues of concern are raised by residents of our community. He said that he could be contacted at jperry@naplesgov.com or by calling the main Police Department number at 239-213-3000 and leaving a message for him.
And should you see him or any other police officer on their rounds, please be sure to say a big "thank you" for all that they do to keep our community safe.
Read more: