By Stan Karpf, GSAC Vice President
Submit questions or feedback online 
Saturday, February 11, 2023 was a big day for the residents of Park Shore and GSAC. A beautiful sculpture, Two Great Blue Herons in Flight, by David H. Turner was unveiled at the intersection of Park Shore Drive and US 41 next to the monument welcoming residents and visitors to Park Shore.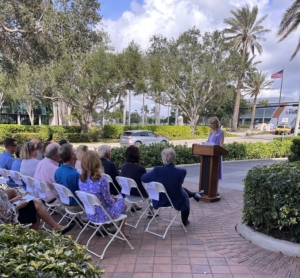 Those attending the celebration included David H. Turner, Mayor Heitmann, Vice Mayor McCabe, members of City Council, Scott Lutgert, Eileen Connolly-Keesler, contributors to the sculpture and the Park Shore Fund leadership team.
Funds for this work of art by renowned sculptor David Turner were raised by the Park Shore Fund, a fund of the Collier Community Foundation, and led by a group of residents working to enhance the beauty of Park Shore. Generous contributions large and small were received from over 220 donors across Park Shore, including many from GSBN.
David H. Turner's sculptures can be found in many public and private collections across the US at places such as Constitution Hall in Washington DC and the Chicago Botanical Garden. Here in Naples his sculptures are featured at the Conservancy of Southwest Florida and at the Norris Gardens at Palm Cottage as well as other locations. And closer to home, at the entry monument to the Raymond Lutgert Park.
As part of the City of Naples Centennial celebration the sculpture was donated to the City to be part of the public art collection for all to enjoy.