Contributed by Pamela Nicholls, GSAC Board
The distressing sight and rancid odor of hundreds of dead fish floating on Moorings Bay or washed up on our beaches is, sadly, a phenomenon not unfamiliar to residents along Gulf Shore Boulevard.
Southwest Florida is particularly prone to the toxic Algal blooms which have been causing marine die-offs in the Gulf for hundreds of years. Unfortunately, for all of us, in recent years we've experienced very large blooms with significant deleterious impacts to the ecology, economy and human health. According to Dr. Ana Puszkin-Chevlin, Regional Director for Growing Climate Solutions, this is a result, in part from warmer waters, an impact of a warming climate, and from human activities on land that increase the nutrient load in waters that discharge into the Gulf of Mexico.
One of the most severe blooms in modern history occurred over a period of 16 months in 2018 and 2019 killing 1000s of tons of marine life including turtles, manatees and dolphins and costing millions of dollars in tourism revenue.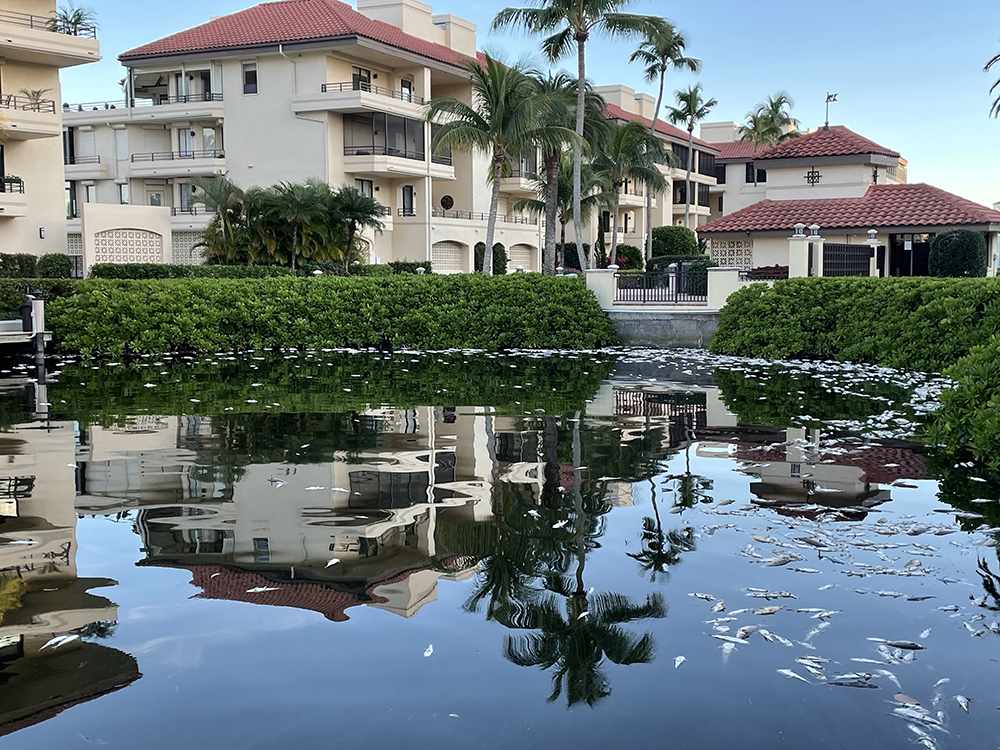 In response to this catastrophic event, Governor DeSantis reactivated the Harmful Algal Bloom Task Force (HAB) in August 2019 and declared water quality a gubernatorial priority. HAB works closely with the Blue Green Algae Task Force and Mote Marine Laboratory's Florida Red Tide Mitigation and Technology Development Initiative. Their shared mission is to control, mitigate and ultimately prevent the algal blooms which cause Red Tide.
Our local government is also taking affirmative action to combat Red Tide, the most recent episode of which struck in December and lasted through January and into February this year.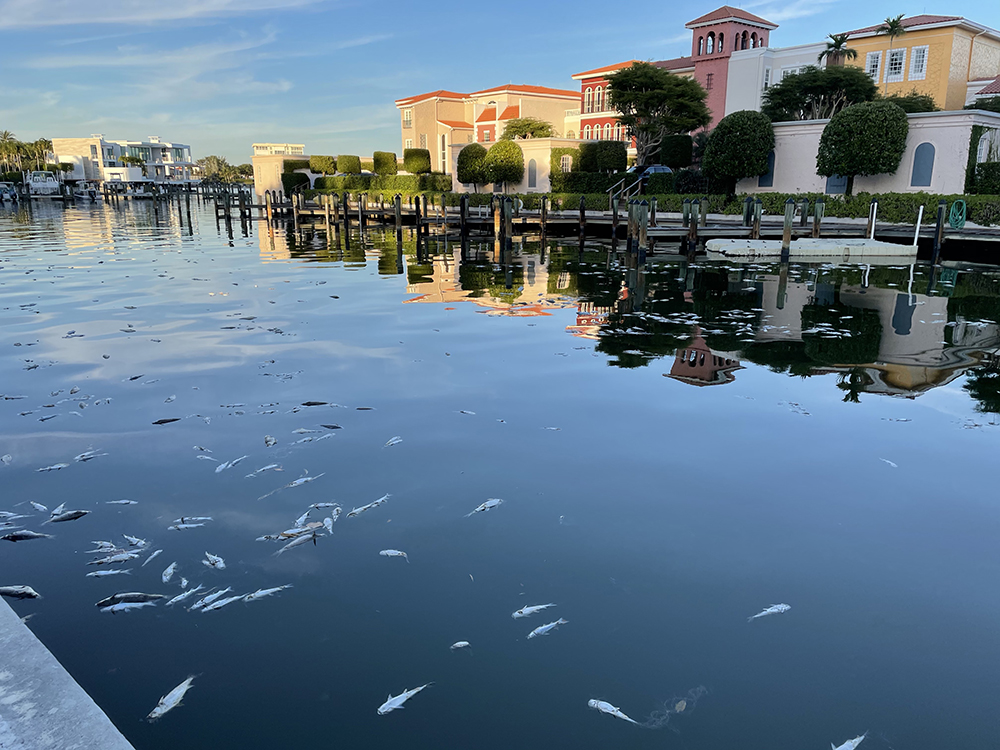 Naples City Council is advocating for specific policy measures and action steps which will have both short- and long-term impacts on the frequency and toxicity of Red Tide events.
According to Vice Mayor Terry Hutchinson, action being undertaken or planned by the City includes reducing the fertilizers used during rainy season; curtailing the amount of impervious concrete being poured in driveways and sidewalks; halting the construction of buildings which go out to a zero lot line; restoring the 20+ retention ponds/lakes within city limits so they function as intended and removing the archaic beach outfall pipes.
The aim of all these measures is to prevent the nutrients "that act as steroids on the algae" from reaching our waterways. Reducing the amount of stormwater that carry these nutrients is critical. Hutchinson is not alone in his belief that it is far better for stormwater to be absorbed into the ground than have it flushed down our storm drains and into our bays. "The answer is to have as much of our surfaces be pervious as nature intended."
Cleaning up the lakes and eradicating Naples' beach outflow pipes are initiatives already underway. The $20m pipe project will be the largest stormwater management project undertaken in the history of Naples.  It is aimed at removing the existing outfall pipes on Naples Beach and replacing them with new, larger, longer pipes that will be able to discharge more (and cleaner) stormwater further into the Gulf.
Little things count too: requiring landscape contractors to blow horticultural debris out of the roadways and back onto lawns and creating funding for street sweepers to keep nutrient material from entering our stormwater system. These may seem like elementary actions but applied consistently they will make a difference in the fight to keep algae nourishing nutrients out of our waterways, says Hutchinson.
Setting aside the problems created by Lake Okeechobee and the flow of polluted stormwater into the Gulf from the north, our water quality is also being adversely affected at the County level. According to Hutchinson, the Golden Gate Canal system is heavily polluted with nutrients which dump into Naples Bay. "Think about all the septic tanks, fertilizer and horticulture nutrients which migrate into the stormwater from this massive area in Collier County."
Hutchinson says Collier County Commissioners have a responsibility to act. "They need to stop the nonsense with septic tanks and clean up the stormwater coming our way."
Septic tanks release a huge amount of nutrients into tributaries which end up in Naples Bay and the Gulf. Hutchinson is proud that the City has been successful in removing septic tanks and hooking homes up to the city's sewer system.
"We have been very effective with this strategy removing well over a hundred septic tanks. As of now, there are no septic tanks within city limits."
And what can we do as ordinary citizens in this crusade against red tide?
Perhaps the answer is less complicated than one might imagine. Perhaps it is just a matter of sound judgment and making the right choices when we arrive at the polling booth. We have the power to select leaders at every level of government who are committed to meaningful change and the protection of our natural environment and the prosperity and health of our community — now and in the future.