By Helen McGrath, GSAC Board Member
Submit questions or feedback online 
Verizon is in the process of deploying 12 "micro" cell towers to enhance 5G coverage in Naples.
One of these towers has already been constructed on 12th Ave South by the City Pier (see photo). Four towers will be placed on City public rights of way along Gulf Shore Boulevard North. Three have been permitted on GSBN, two in The Moorings at Lowdermilk Park and Harbor Drive and one at the Naples Beach Club. An additional tower where Mooring Line Drive meets GSBN is currently pending.
Florida Statue relegates a municipality's ability to control cell tower deployments according to safety and aesthetic criteria. Verizon's microcells will be dark green, thirty-five feet high with a 14 cubic foot electronics cabinet.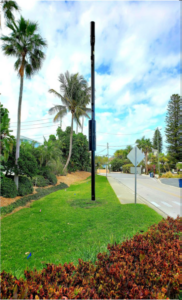 Currently, neither AT&T nor T Mobile have filed for additional towers in the City of Naples.
The big three wireless carriers make their coverage maps available online at the following links: