By Pam Nicholls GSAC Board Member
Submit questions or feedback online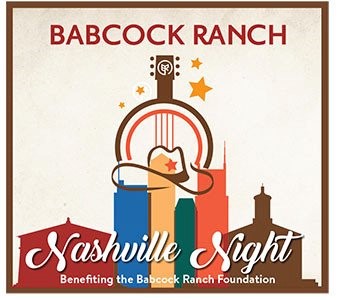 Nashville Comes To Babcock Ranch (Saturday, November 18, 2023) 
The Babcock Ranch Foundation is hosting an inaugural Nashville Night music festival. 
More than 2,000 are expected to attend the event in Founder's Square at the Ranch in Punta Gorda. Featuring blues, rock, and country music from some of the brightest stars in Music City, artists include acclaimed duo Meg Williams and Travis Bowlin; Dave Isaacs, and Deidre Thornell. Gates open at 3pm. General advance sale tickets are $35.  Tickets are $45 on the day. Proceeds benefit the Babcock Ranch Foundation and its mission of creating programs, initiatives and scholarships that enhance, enrich and positively impact the lives of at-risk children in Southwest Florida. 
Nature in November  (Every Saturday in the month)  
Come celebrate nature with the Conservancy of Southwest Florida during Nature in November. Every Saturday through the month of November the Conservancy is offering free admission to the public. 
Located in the heart of Naples, the Conservancy occupies a 21-acre campus with a Nature Center and wildlife hospital. It is also a site on the Great Florida Birding Trail.  
Indoor and outdoor exhibits feature galleries ranging from climate change to the impact of invasive species. The Nature Center is kid friendly with a Little Explorers program every Thursday, interactive learning, animal encounters and even a touch tank with various ocean creatures. Visitors can also enjoy an electric boat tour, special daily programs, and kayak rentals. Open daily, 9:30am to 4pm, Tuesday-Saturday at 1495 Smith Preserve Way. 
Charlie C. Anthony Park Grand Re-Opening  (Tuesday, November 21, 2023 – 4:30 PM) 
The 7.92-acre park on the Gordon River has been closed for months while undergoing extensive renovation. The recreational ground is named for Private Charlie Anthony who lost his life in Vietnam in 1969. Facilities include a fishing pier, walking trails, tennis courts, picnic shelters, playground and flood lit basketball court. Come celebrate its return to action at 1500 5th Ave N, Naples, FL 34102. Light Refreshments will be served. 
Operation Fill-A-Patrol Car & Tree Lighting Ceremony (Monday, November 27, 2023 – 10:00 AM) 
Stop by and join the Naples Police Department in their bid to fill a patrol car with Christmas presents for Project HELP Please bring a new, unwrapped toy to the lobby at 355 Riverside Circle, Naples, FL 34102. Hot cocoa and goodies served. 
Centennial Gala (Thursday, November 30th, 2023 – 5:00 PM – 9:00 PM)  
Celebrate a century of memories and milestones at the Centennial Gala at the Eva Sugden Gomez Center. This glitzy dinner dance features a speak easy, silent auction and promises food and drink commensurate with our rich history and exciting future. The Z Street Band from Orlando and Naples own Jazz Society will recreate the music of the roaring twenties. There are only a few tickets ($300) left so don't delay get yours! today.  
Centennial Concert Night (Friday, December 1st, 2023 – 6:00 PM – 10:00 PM) 
Celebrate the centennial with Rock Republic and the Ben Allen Band at Cambier Park. With their infectious energy and amazing talent, the Ben Allen Band will take you on a musical journey spanning various genres. From rock classics to modern hits, they'll have you grooving to every beat. Local breweries and food vendors will keep you fed and watered. 
Get ready to dance, and sing along at Cambier Park, located at 755 8th Avenue South. General admission tickets are FREE but you must register here. VIP tickets are sold out.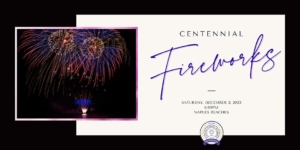 Centennial Community Celebration and Fireworks (Saturday, December 2, 2023  – 12:00 – 4:00 PM and 6:00 PM 
Come together at Cambier Park for a lively community celebration to commemorate our community's centennial milestone. Organizers ask that you reserve a spot and promise that the park will provide a beautiful backdrop for a family day out, filled with fun activities, arts and crafts, games, bouncy castles, live entertainment, and delicious food. Move on to Naples Beaches to watch the Fireworks which start at 6pm.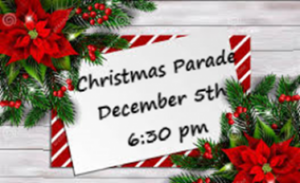 Christmas Parade (Tuesday, December 5 – 6:30 PM)
The annual Parade begins at 11th Avenue South and will proceed north on 3rd Street to 5th Avenue South and east on 5th Avenue South to 8th Street South.  The parade will proceed south on 8th Street South and will end at 11th Avenue South.