By Officer Jeff Perry, Naples Police Department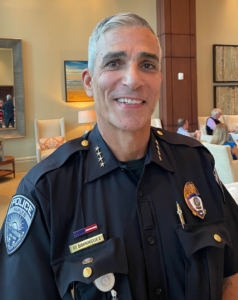 As we approach the holiday season, the Naples Police Department shared a new police blotter to help you protect your friends and family. This report provides a list of events and arrests recorded by the police station for the month of October, giving the community a better idea of common crimes in the area. It should serve as a reminder to be vigilant of your surroundings and to take appropriate safety precautions to avoid becoming a victim.  
Below are the overall stats and brief info on the more noteworthy incidents. I also included crime prevention tips (***) after each incident.
140 – Directed Patrols
24 – Medical Emergencies
22 – Alarms
20 – Traffic Stops
12 – 911 Hang Ups
1- Burglary
1 – Fraud
1 – Fire
Auto Burglary: 
10/19/23 6-9pm. Horizon Way Beach End
– vehicle left unlocked by accident, upon return to vehicle discovered purse and wallet missing from under seat, no suspicious activity on cards.
*** Ensure vehicle locked, don't leave valuables in vehicle.  ***
Fraud:
10/2/22 – 9/2/23. Gulfshore Blvd N.
– subject engaged in online dating with unknown female, subject wired large amounts of money to the female, subject never received money back.
*** Never wire money to strangers ***
Fire: 
10/26/23 – 4951 Gulfshore Blvd N.
– small fire most likely caused by power tools while remolding being conducted, property damage, no injuries. 
The City of Naples Police Department is inviting the community to attend the Citizen's Police Academy 9-Week Program starting this January 11, 2024. Through this program, participants will learn about various interesting topics including crime scene investigations, DUI, homicide investigations, dispatching, criminal law, and more. In addition, participants will also engage in activities such as shooting at the gun range, obstacle driving course, simulated traffic stops, etc. 
If this sounds interesting and exciting to you then complete the application form at naples.gov/police to reserve a seat. One application per person is required, so if you are a couple wanting to attend, each person must complete an application. The program is free of charge. Registration is first come first serve with priority given to City of Naples residents and/or City business owners.